How Do Mold Removal Companies Like SERVPRO Help Medford Business Owners?
4/26/2021 (Permalink)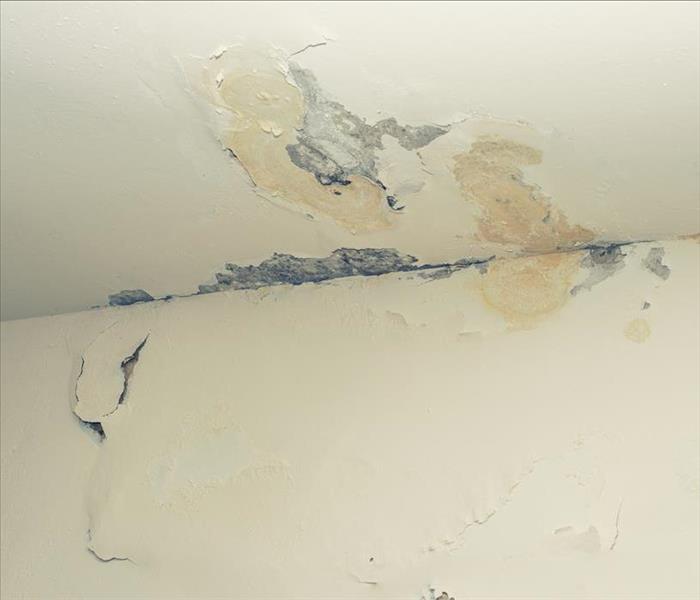 Trust the seasoned , well-trained SERVPRO AMRT applied microbial remediation technicians to remove mold from our Medford Office
They Help Medford Businesses Overcome the Devastating Effects of Mold Damage.
Mold is a natural part of the environment, with about 1,000 unique species living in the United States alone, but it can cause serious issues if it grows inside your Medford area business establishment. Under the right circumstances, mold is beneficial for nature and can be a useful tool for humans. However, if conditions enable it to grow inside your restaurant, retail store, hotel, or office complex, it can harm your facilities and negatively affect those entering your business. This unfortunate situation could cause you to lose customers and profits and eventually lead to the cessation of operations.
Conditions That Facilitate Indoor Mold Growth
Eradicating mold from the natural environment is impossible, but there are keyways to prevent it from growing inside your commercial building. Mold spores, the seeds of these fungi, are omnipresent and routinely float through the indoor air of structures. These spores produce little effect if they do not land on a surface conducive to mold growth. Such mold-facilitating surfaces
Provide an organic food source
Have water or enough moisture to keep the microbes alive
Are in areas with enough oxygen to allow the microorganisms to survive
Temperature also plays a role in where molds thrive, but it is less important than the other factors. While most of these fungi prefer warm temperatures, many can also survive in cold environments.
Specific Ways Mold Can Impact Your Business
As previously noted, fungal outbreaks can cause structural damage to your facilities and have negative effects on those that enter them. Some of the more common issues arising from indoor mold growth are:
Severe discoloration of structural elements and interior contents
Foul, persistent musty odors
Damaged materials that have been consumed by fungal microbes
Diminished structural integrity, including compromised walls, collapsing floors, and falling ceilings
Health effects on workers and customers
It is for all of these reasons that it is crucial to have your buildings routinely inspected for mold and deal with these problems as soon as they are discovered. Doing this could help prevent interruptions in your operations, limit potential harm to your employees and patrons, and possibly avert total business failure.
With all of that said, it is reassuring to know that local mold removal companies, like your neighborhood SERVPRO of Medford/Everett, are always ready to help.
How Do Medford Mold Removal Companies Like SERVPRO Remediate Your Business?
SERVPRO technicians have been successfully performing mold removal services in Medford for well over fifty years. They are equipped with state-of-the-art industry gear and expertly trained in all the latest mold remediation techniques, including from the IICRC. The procedure our professionals generally follow is as follows:
Technicians arrive and perform a mold inspection
Then, air movers, dehumidifiers, and Injectidry systems are employed to dry out the interiors of your business
Non-salvageable building materials and contents are disposed of
Next, high-tech foggers may be used to treat black mold and other types with commercial-grade antifungal agents
Afterward, our workers repair and reconstruct structural elements damaged by fungal growths
So, when you are researching mold removal companies, remember that SERVPRO of Medford/Everett is a local service always ready to help. Contact us at (781) 395-4444 whenever you need us.